Ylang Ylang - Flower Of Flowers - Luxury Perfumery And Cosmetics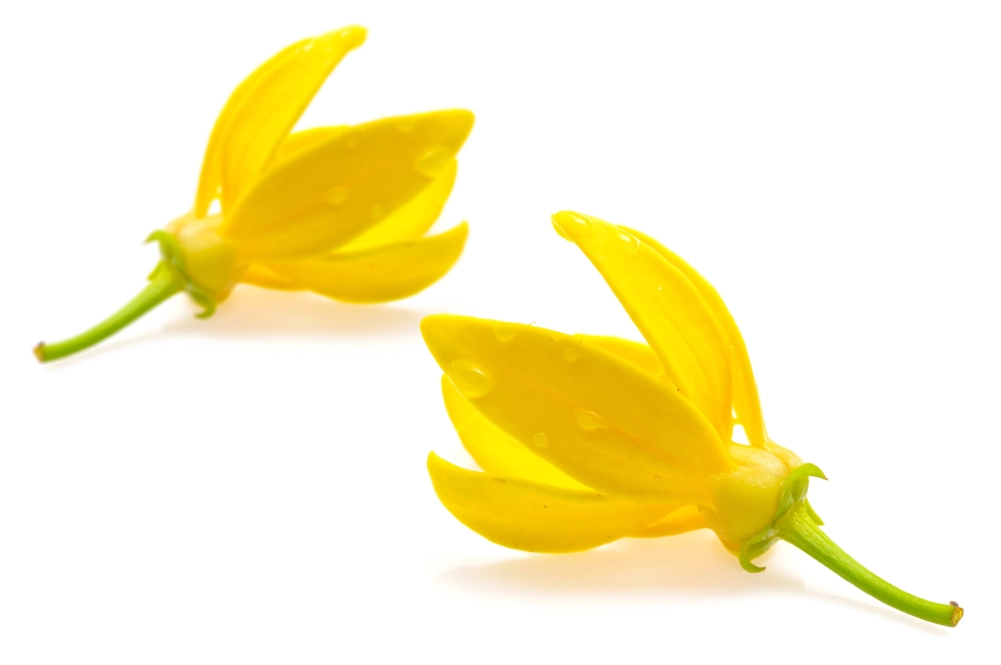 Ylang Ylang is the native of Philippines, Southern Asia, Malaysia, Australia and is cultivated in Neo-tropics. It is known to be persistent species in Puerto Rico. It is vigorous pioneering and fast growing tree. It is capable of growing more than 2 meters per year in its early years.
In Philippines, it is known as flower of flowers and traditionally valued for its perfume.
The Essential Oils are extracted through steam distillation and separated in three different grades as distillates are obtained. The earliest distillation has the lightest and most ethereal fragrance and the one collected during the last hours of the distillation, is the thicker and smokier than the earlier one.
About Ylang Ylang:
Botanical Name: Cananga odorata
Family: Annonaceae (Custard Apple)
Common Name: Ylang Ylang
Plant Part used for oil extraction: Flower
Fragrance: Sweety, heady, floral
Color: Pale Yellow
Taste: Sweet and Bitter
Aroma Strength: Medium
Energy: Cooling and Moisturizing
Doshas Effect: Pita, Vata(-), Kapha(+)
Chakra Works: Helps in balancing Solar Plex and Sacral
Chemical Constituents: Linalol, geraniol, eugenol, safral, ylangol, linalyl benzoate, linalyl acetate, Alpha penine, benzoic acid, cadinene, caryophylelene, creosol, isoeugenol
Physical Properties: Density 0.923 – 0.975
Ignition Temperature: 85 degree Celsius
Mixes Well with: Vetiver, Bergamot, Tuberose, Cedarwood
Used For:
Oily Skin and Hair: When used as hair tonic, it balances oil production.
High Blood Pressure: Studies show that simply sniffing the oil reduces the blood pressure by 15-20 points.
Stress: The study exhibits that the stress index goes down from high level of 77.33 ku/L to medium 49.5 ku/L .The stress level was also determined by the alpha brain wave.
Heart Rate: Study show that Ylang Ylang oil helps in controlling palpitation and higher heart rate.
Acne: It has been praised for combating Acne and oily skin.
Relaxes - Nervous tension and anxiety
Bibliography:
1. Wanger WL, Lorence DH, 2014 Flora of the marquesas Island Website, Washington DC USA, Smith Sonian Institution
2. Julia Lawless, The Encyclopedia of Essential Oils
3. Essential Oil Safety, UK by Robert Tisserand and Rondey Young
4. Complete Book of Essential Oils and Aromatherapy by Valerie Ann Worwood
5. Aromatherapy, A Complete Guide to the Healing Art – Kathi Kevillee and MindyGreen