Cell-O-Lite From Core & Pure - Get Smooth, Dimple-Free Skin Year Round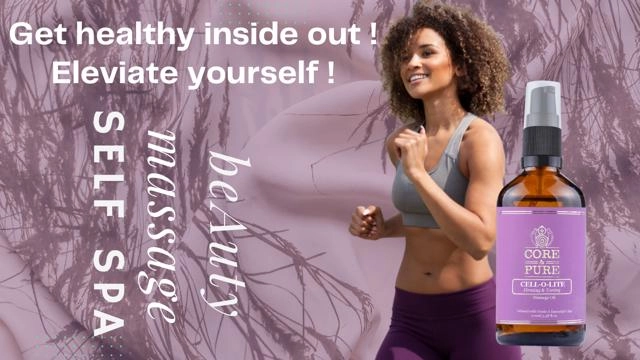 Essential oils have been used for body massages since time immemorial. Sometimes mixed in with other oils, or sometimes used in essential oil blends, massage oils can serve a myriad of different purposes.
CORE & PURE's Cell-O-Lite Slimming and Toning essential oil blend is one such potent massage oil that is perfect for getting rid of cellulite, toning and firming muscles, and giving the user a youthful appearance, among many other benefits.
Every bottle of Cell-O-Lite massage oil contains a well-crafted blend of our 100% pure and natural grade-A essential oils. The blend consists of oils like grapefruit, juniper, anise, geranium, black pepper, and many more.
In this post, we would like to talk a little about the main ingredients that go in this blend and why each is so beneficial.
One of the main ingredients of this blend is grapefruit oil. It is no secret that citrus oils have varied benefits. People have literally been rubbing orange and lemon peels on their faces to get wrinkle free and nourishing skin for ages. It's actually the oils present in the skin that does all the work. Grapefruit oil is extracted from the skin of grapefruits using a cold-pressing method. Like with most citrus oils, use of grapefruit oils can contribute to a healthier skin, preventing conditions like blemishes and acne.
Furthermore, grapefruit oil can also provide antibacterial and antimicrobial benefits, helping prevent certain diseases caused by several known microbials. The scent of grapefruit essential oils also has some varied benefits, which include balancing the mood, reducing stress and balancing blood pressure, and promoting weight loss through supressing appetite and toning the muscles of the applied areas.
Derived using steam distillation from the leads of Pelargonium graveolens, a plant species native to South Africa, Geranium oil is believed to be beneficial for a number of ailments. This oil carried many anti-inflammatory, antimicrobial, and antiseptic properties which makes it an essential ingredient in our Cell-O-Lite massage oil blend. Many conditions ranging from ailments like acne, dermatitis, edema, and infections can be treated and prevented using geranium essential oil.
Gin loving people might have heard of juniper berries before, but did you know that it is used for making medicines as well?
Both the extract and the essential oils of the berries serve many purposes, ranging from improved digestion to prevention of UTIs and bladder stones. The reason why we use it in our blend, however, is because juniper oil has excellent regenerative properties which work wonderfully in restoring and rejuvenating the skin.
Since ancient times anise has been used as an ingredient in cooking not only because of its flavour, but also because of its many medical properties. Extracted using steam distillation of dried anise fruits, anise essential oils are believed to provide many benefits, such as reducing pain, and improving digestion. As a massage oil, anise oil can act as a stimulant, improving circulation and flushing out toxins from the body. The scent of the oil can also serve to treat respiratory disorders.
These are only some of the many benefits that the CORE & PURE Cell-O-Lite blend has. To achieve desired results, massage using this oil blend daily on areas where you want to see results, such as the stomach and abdomen, and the upper arms and legs.