Tea Tree Essential Oil From Core & Pure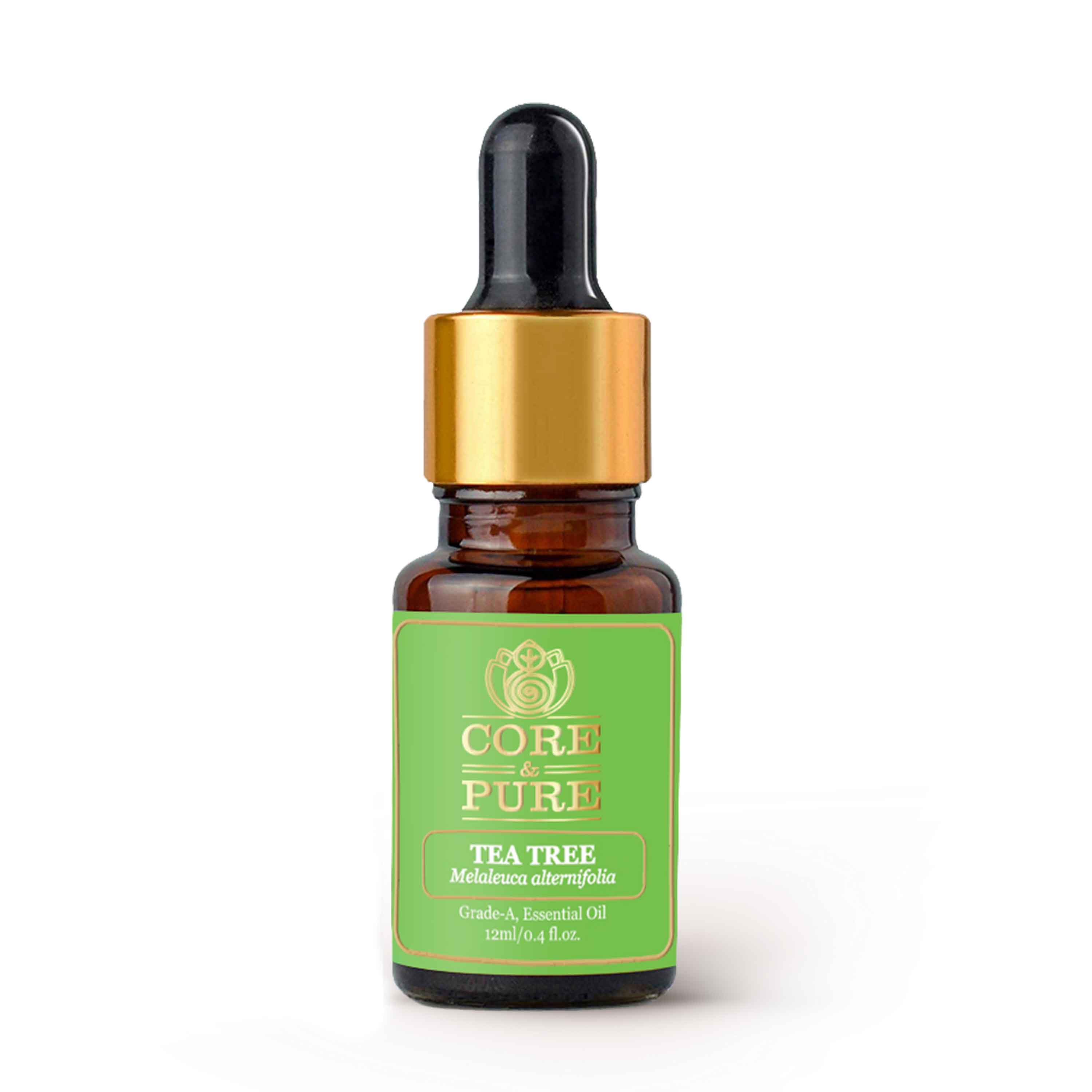 For centuries essential oils have served many purposes.
While aromatherapy is one of the many uses of these oils, essential oils have also been used for things like cooking and cosmetics.
In fact, essential oils are a crucial element of beauty and selfcare products, both due to their incredible range of aromas and the many benefits they have.
Of the oils that are primarily used for such cases, tea tree is probably one of the most popular. You might have heard of tea tree oil before. It is very popular in skincare and hygiene products like lotions and soaps, as well as haircare products like hair oil and shampoos.
But the goodness of tea tree isn't limited to its beauty applications.
This post will explore the benefits of CORE & PURE's Tea Tree Oil.
What is Tea Tree Oil?
Tea tree oil is derived from the tea tree, or melaleuca alternifolia, a plant that is native to Australia. The tree is often abundant with oil producing glands, which makes the extraction of the essential oil relatively easy.
Historically, tea tree oil has predominantly been used topically for specific medicinal attributes. It should also be noted that tea tree oil is generally not fit for consumption as it is toxic in its concentrated form.
Benefits of CORE & PURE Tea Tree Oil
CORE & PURE always deals with 100% pure essential oils, which allows the oils to exhibit its true potential. Our tea tree oil is the same, made with the highest quality source materials. Here are some of the benefits of tea tree oil:
· Tea Tree oil is great for the skin
Tea tree oil is best known for its skincare abilities. It has highly anti-inflammatory properties which can reduce blemishes, skin soreness, and provide relief from psoriasis. It also has anti-fungal attributes which can help prevent fungal infections on the skin, such as athlete's foot. Tea tree oil can help soothe the skin and provide relief against heat rash as well. Overall, it is a great treatment for many skin conditions.
· Tea tree oil can help fight dandruff and improve hair and scalp health
Tea tree oil can also act on the scalp, helping fight scalp conditions like flaking, dry scalp, and dandruff. It also helps strengthen the hair and allows it to retain moisture longer.
· Tea tree oil can act as an insect repellent
Tea tree oil's strong camphor-like odour can help keep certain insects and pests away. This is one of the reasons why this is sometimes used for insect repellers, specifically for mosquitoes.
· Tea tree oil can act as a deodorant
Tea tree oil's natural anti-bacterial properties can help prevent the growth of odour releasing bacteria. This means that tea tree oil can act as a natural deodorant or can be combined with other ingredients to make your own homemade deodorants.
· Tea tree oil can help disinfect surfaces
Tea tree oil's anti-microbial properties makes it good for disinfecting surfaces, as well as sanitize hands. It can help kill and prevent the formation of harmful germs.
· Tea tree oil can help in wound healing and can act as an antiseptic
Tea tree oil's skin benefits don't end with its skincare abilities. It can also help in disinfecting and treating minor cuts and scrapes.
How to use CORE & PURE Tea Tree Oil

. For skincare routines – Apply a dab of the oil and gently spread the oil on your skin over rashes, blemishes, acne, or stretch marks to help cure and prevent them.

· For disinfecting wounds and boosting wound healing – Thoroughly clean the wound or cut with water. Dilute a drop or two of tea tree oil with a skin-safe carrier oil and apply on the wound and then cover it with a bandage.

· As a hand sanitizer – Tea tree oil can be used to make your own hand sanitizer. Combine with a bit of ethyl or isopropyl alcohol and a moisturizing agent to make your own.

· As an insect repellent – Apply a drop of the oil on surfaces around the room to repel insects like mosquitoes and flies. You can also use it with a diffuser to create an entire insect free zone.
Concluding thoughts

Tea tree oil is famous for its skincare properties, but it can also be used as a disinfectant and sanitizer, and can be used to repel insects a well. Tea tree oil is a versatile oil that can be used directly, but works great as an ingredient for homemade selfcare products as well. It can be used to make homemade lotions, sanitizer, soaps, shampoos, and even cleaning products. Tea tree oil's anti-microbial properties also make it useful for treating and disinfecting small wounds and injuries. Overall, tea tree oil is a great addition for the medicine cabinet for the variety of topical applications it has.