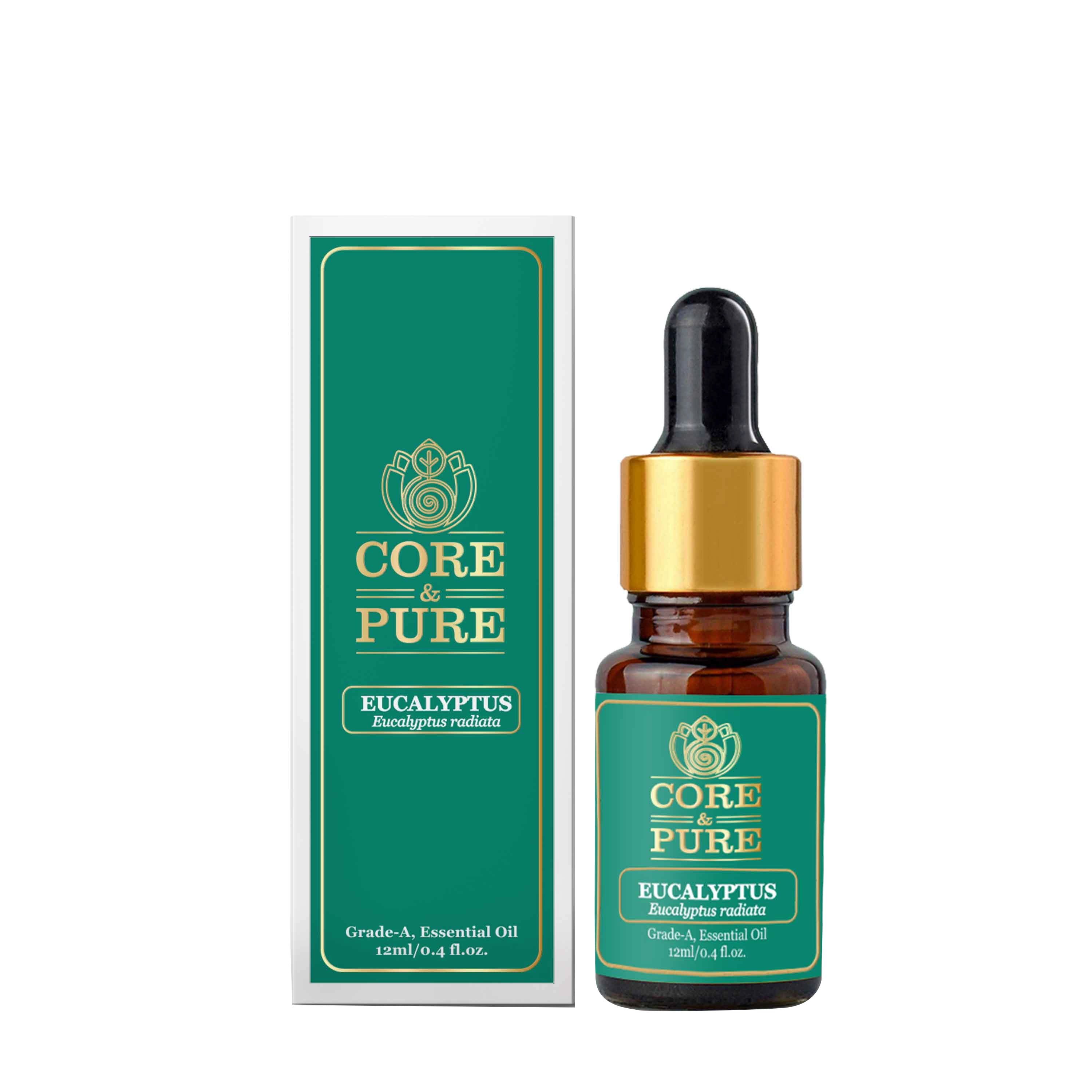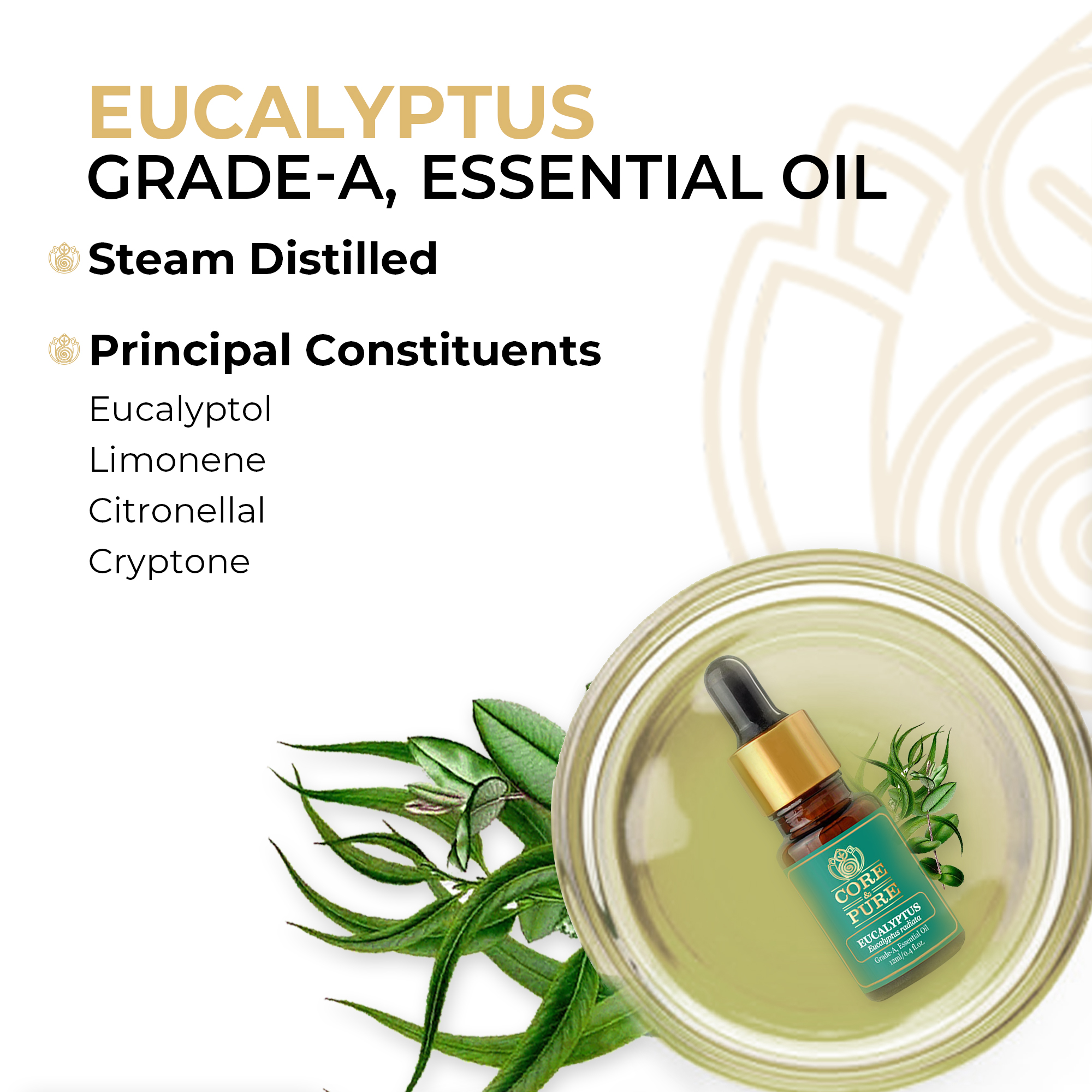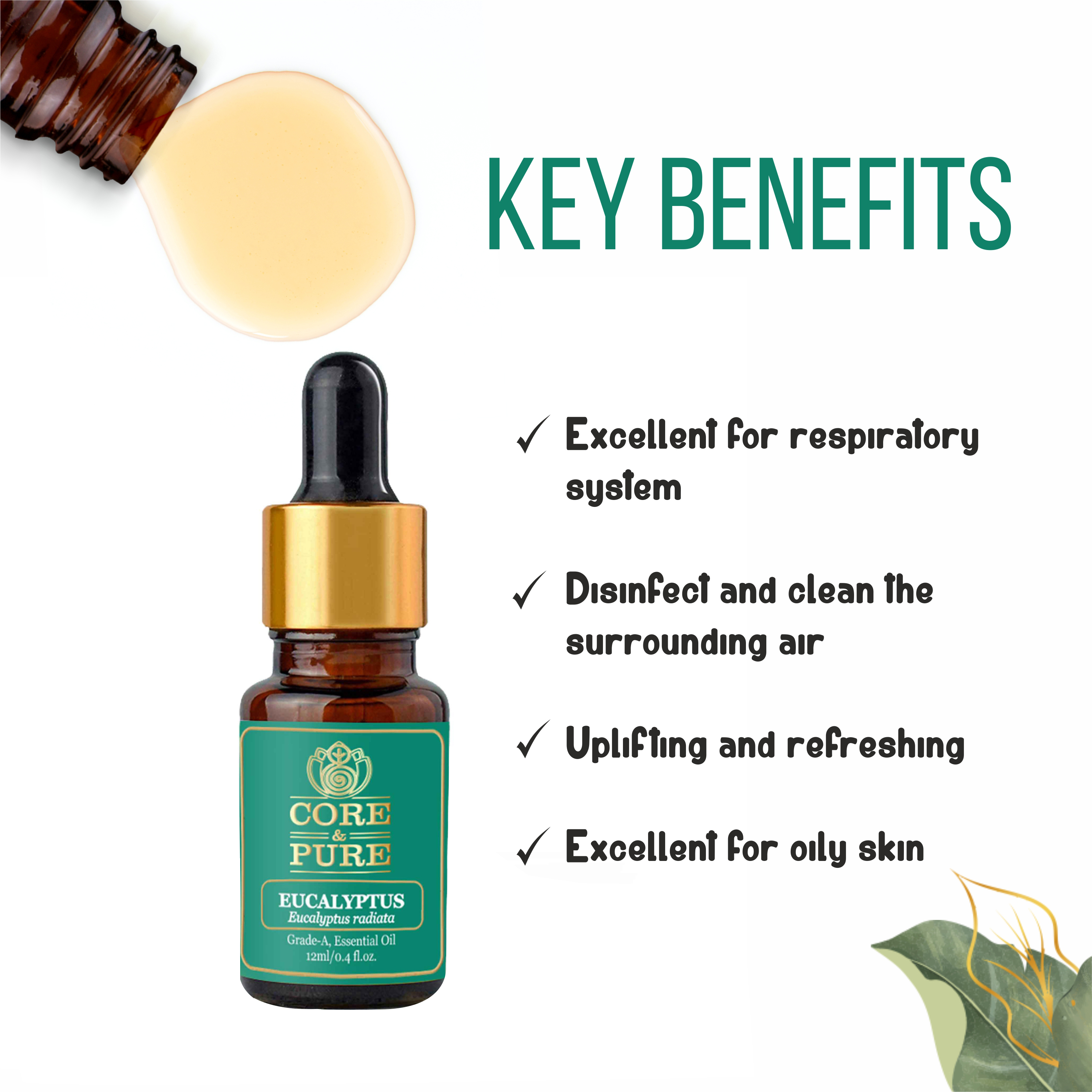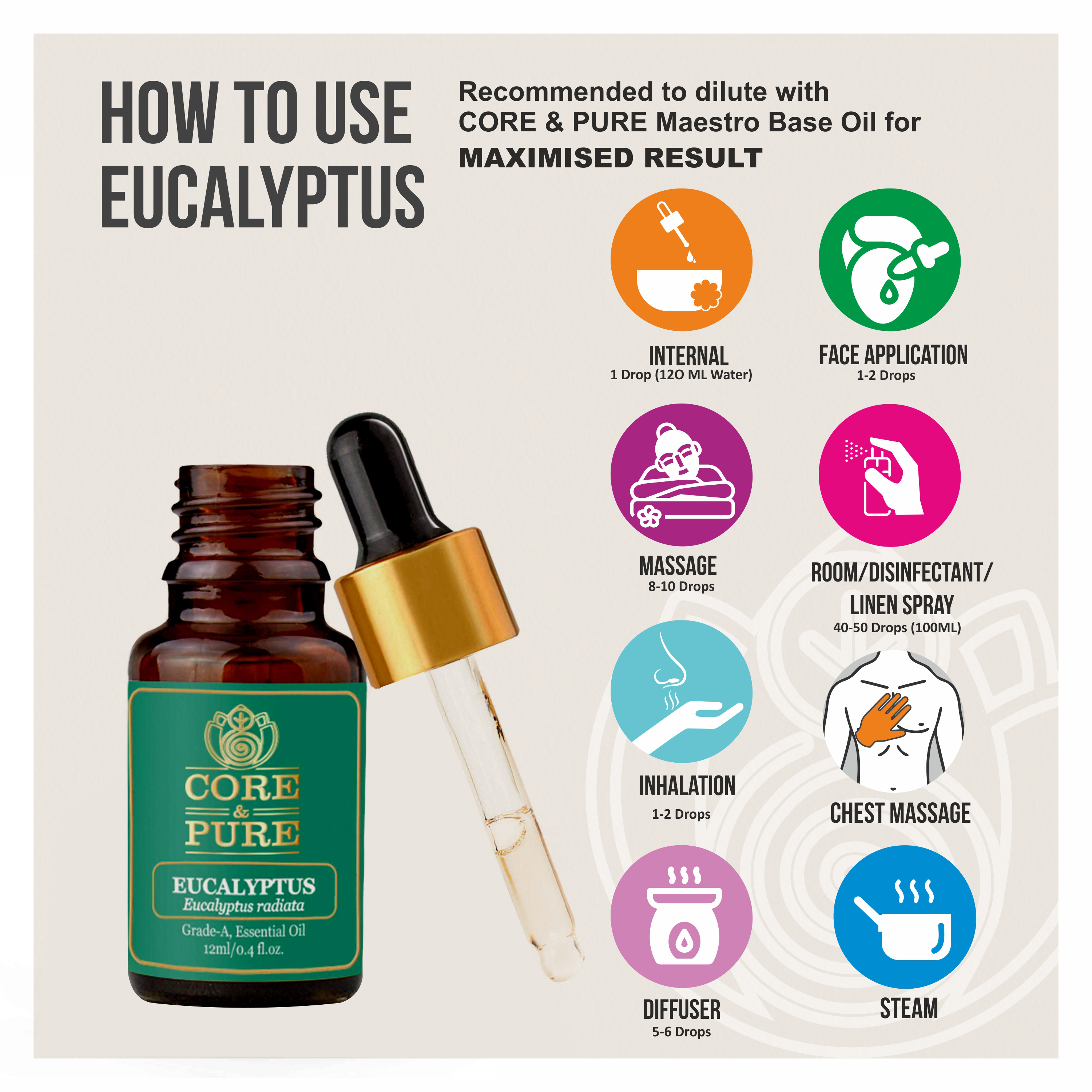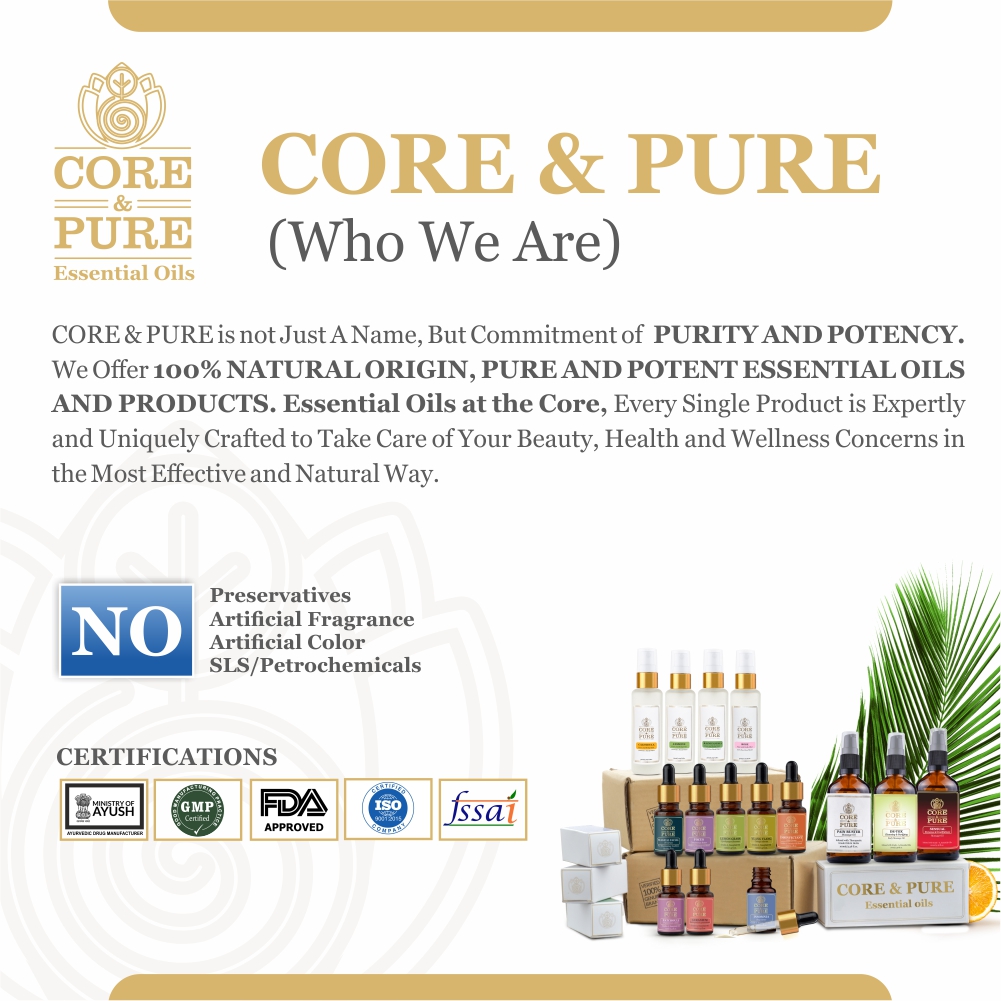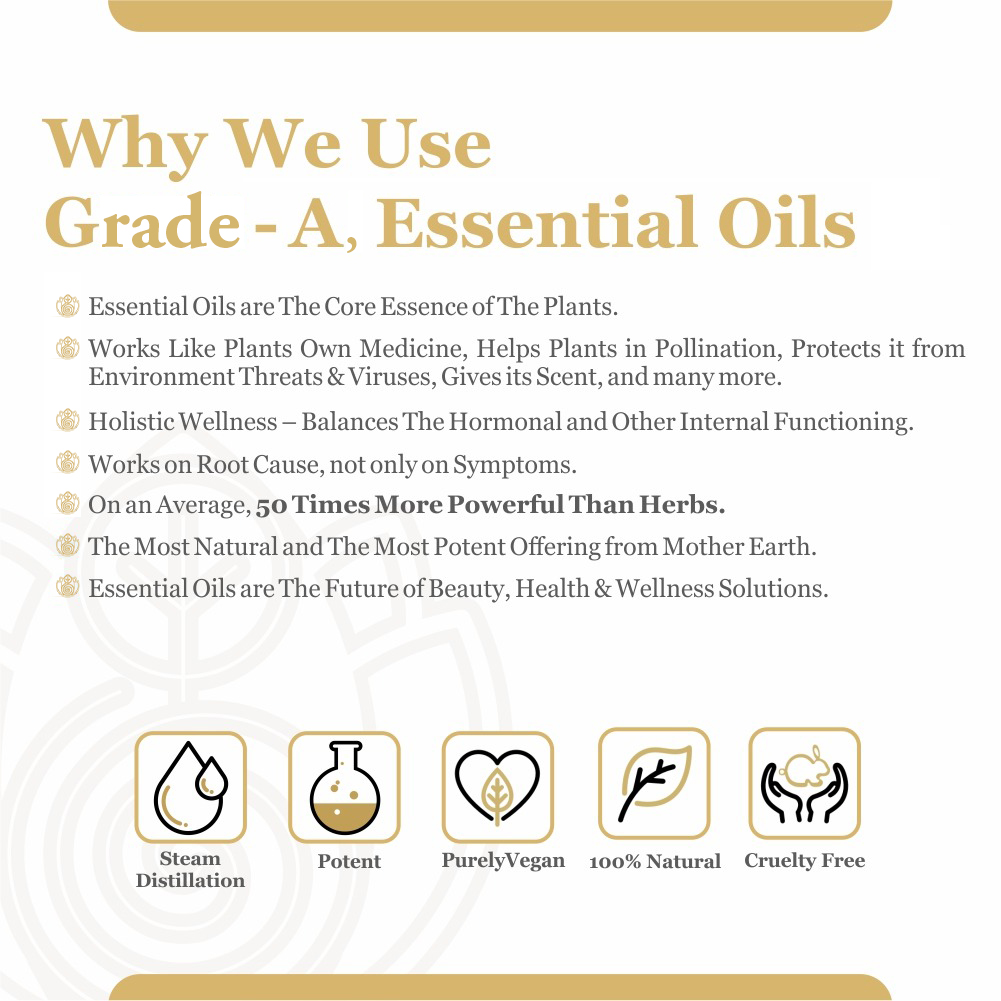 Eucalyptus Grade-A, Essential Oil
Excellent for Respiratory System, Help in Oils Skin
Eucalyptus globulus is one of the most commonly used Essential Oil. They are the tallest and fastest-growing trees. It has a minty, vibrant and refreshing aroma that is a common ingredient in chest salves, inhalants and cold care products. It is known as "clear the air". It is excellent for respiratory tract problems. As it is inhaled, it gives immediate effect. It is wonderful for acne and skin eruptions because it reduces oil production and dries the tissue. It is thought to increase insulin production and help to balance the blood sugar. In Australia, it is household remedy for flu, fever and sore throat to skin and muscle pain. Inhalation increases the brain activity and counters physical and mental fatigue. It should be part of everyone medicine cabinet and first aid kit.
Steam Distillation

Potent

Purely Vegan

100% Natural

Cruelty Free
₹525.00 ₹545.00 -3%
---
Excellent for Respiratory System
Disinfect and Clean The Surrounding Air
Uplifting and Refreshing
Excellent or Oily Skin
Eucalyptus Essential Oil can be used in multiple ways like in Diffuser, Bath, Massage oil, Crème, Disinfectant, Steam, Aromatherapy, etc.
Add few drops of Eucalyptus Oil, Lemon Oil and Tea Tree to a spray bottle of water or alcohol to use as disinfectant spray, clean tables, countertops, kitchen area, and other surfaces.
For oily skin, add in your moisturizer for cleansing & purifying benefits.
Inhale directly or in diffuser or rub onto your chest for an uplifting, refreshing and calming experience.
---
Applications: Aromatic, Topical
Plant Part used: Leaf
Extraction Method: Steam Distillation
Aromatic Description: Pungent, sharp, camphoraceous
Taste: Pungent
Energy: Heating/moisturizing
Principal Constituents: Eucalyptol, limonene, citronellal, cryptone, Therapeutic Properties: Antiviral, Antibacterial, Antimicrobial, Anti-inflammatory, Expectorant, Diaphoretic, Decongestant
Mix well with: Lavender, mint, cedarwood, citronella, geranium, tea tree, lemon, grapefruit, chamomile & few more
---
Topical: Face/Body: Dilute 1-2 drops and apply on the desired area. Can add in any crème/lotion for cosmetic application.
Massage: Dilute 8-10 drops, massage problem area/whole body.
Bathing: Add 8-10 drops in bucket.
Aromatic: Diffusion; Use 5-6 drops in the diffuser of your choice.
Inhalation; Put 1-2 drops on hanky/wrist/etc.
Spray: Add 40-50 drops in 100ml water for Disinfectant/Linen/Room Spray.
Dilution: Can dilute in any base/carrier oil. Recommended to dilute with Core & Pure Maestro Base Oil for maximised result
---
Frequently Asked Questions
19 Reviews
Like in name itself...essential oil for babies and adults also... wonderful product. Highly recommended !
Very nice product. I personally use its two drops in steam. Helpful for respiratory system.
Very good product, the aroma is calming and rejuvenating. Must buy product
I used it on my baby just a few tiny drops as she had cold and cough I knew that many brands use Eucalyptus extracts in the product and it worked wonders I like it very much it's effective
Superb Product..... i am using this through inhalation because i am so sensitive for cold it's gives a strong aroma which is helping to reduce cough and Sneeze
I have been using Core and Pure's Essential oil for a while and the results are fabulous. When inhaled it uplifts and give refreshing and calming experience, it is 100% vegan. I highly recommend its use.
Most useful oil, I generally use in steam to help cold and blocked nose.
I was suffering from cold and cough from a long time…..but after using a core and pure eucalyptus essential oil my cold and cough had disappeared which I suffering from a long time…..it's amazing it's smell is so refreshing…….It has so many benefits…..I suggest u all to just for this essential oil without a second thought…..It has nice fragrance also I just love this brand because of the really good products😊❤️❤️
I was suffering from cold and fever from long time.but now I am fit and fine because of this core&pure eucalyptus oil.its not only gives me relief from fever but also from very much cold.very amazing product
I have used this since two weeks and odour of it is very refreshing which gives very calming experience to me .
I have used this since two weeks and odour of it is very refreshing which gives very calming experience to me .
It's sooooo good. It just shoves your cough and cold away in a few minutes after inhaling. Just go for it!
Very very effective formula in essential oil.its is very good for cold and cough.i am using last few days it is very good for me.
After taking care of toddler I get tired so much. I tried this amazing Eucalyptus essential oil. It smell so nice and refreshing. I mix this oil in my body lotion and apply. It makes me feel relaxed. Good product.
I add 3-4 drops of it in my steamer and inhale whenever I catch cold and cough. Been satisfied with the product till now Even it can be used in different ways
This eucalyptus essential oil is so rich and helpful. I had cold and I used to apply it on my forehead and nose. It really helped with cold and also headache. It has such a nice strong aroma.. I've been using core and pure products since last year and I highly recommend you to buy!
It was very helpful i used it for cleaning tables . I also added few drops in my mositurizer it was really amazing.
I was suffering from cold and fever from long time.I have used this since two weeks and odour of it is very refreshing which gives very calming experience to me .